Bag in a Box System
Bag-in-box is ideal for beer as the bag encloses the product and keeps a carbon dioxide blanket around the product keeping it fresh and thus enhancing the shelf life. This is dependant upon keeping the beer reasonably cool, minimal amounts of gas are given off and the bag does the rest.
The boxes are strong and can be stacked up to 1000L volumes on a pallet. They do not let air back into the bag after dispense. Thus, they keep the beer fresher and therefore it lasts longer.
We supply in 10 and 20-litre sizes and can provide adaptors to allow traditional hand pulls to be connected to the bags. There is no noticeable difference from a customer's point of view of a beer from a cask and one from a bag. It is especially useful for small venues without a cellar. The boxes can be placed in a fridge with a small modification to allow beer lines in.
If you wish to swap beers before a bag is finished, simply unclip the connector and reclip to a different bag. The original bag can be re-connected to at a later date, within a month, with no loss of quality.
Prices:
10 litre boxes start from £30.00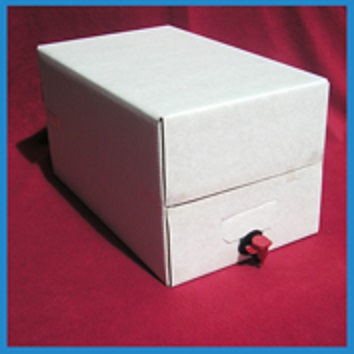 20 litre boxes start from £50.00
Prices increase for certain products.